Meet An Acupuncture Patient
Suki is a 12 yr old Lab Mix who has been receiving acupuncture treatments with Dr. Williams for the last six months. Suki is painful in her front limbs and thus licks her front limbs. Suki's owner noticed a significant improvement in the licking almost immediately. Her gait has become more fluid since she started treatment. Mom also reports she is less anxious now and no longer needs to give her anxiety medication.
Alternative Offerings at Del Ray Animal Hospital
Del Ray Animal Hospital and one of our staff veterinarians, Dr. Anne Mixson Williams, offer two types of Traditional Chinese Medicine (TCM): acupuncture and Chinese herbal medicine. A conventional western diagnosis work up is recommended but not required prior to diagnosis and treatment with either modality.
History of Acupuncture
Acupuncture has been performed on animals since around 2000 BCE. Veterinary acupuncture was discovers when lameness resolved in battle horses after they were struck by arrows at certain places. These places were later determined to be acupuncture points.
Certain acupuncture points become active during disease states. These active points along with the history and examination of the tongue and pulse allow a veterinary acupuncturist to make a Chinese diagnosis. TCM diagnosis is usually made on the basis of various classifications methods including Five Element Theory and Eight Principle. Treatment involves maintaining the balance of the body's energy and QI (pronounced "CHEE").
The treatment of pain is the most common use for acupuncture. Acupuncture results in blocking pain both at the spinal cord and the brain. Arthritis, disc disease, lameness and paralysis are the most common conditions presented for acupuncture treatment. TCM has the potential to help most diseases, but acupuncture should be used with caution in cancer patients.
The Scientific Look at Acupuncture
We do have a scientific explanation for the pain relief obtained from acupuncture treatment. There are a number of receptors found in the body that convey various sensations such as pain, temperature, pressure and touch. These sensations from the external body are then directed via the central nervous system to the brain which then releases neurotransmitters and natural pain relieving hormones. These substances (endorphones and enkephalins) are similar to morphine. Other effects are seen such as increasing circulation, relieving muscle spasms, and stimulating nerves.
PBS Spotlight on Traditional Chinese Veterinary Medicine
Appointments
Acupuncture is initially performed weekly for six weeks. The interval is then gradually increased to a maintenance program of once every three months. The needles generally stay in place 15 to 20 minutes. Occasionally, there is a mild reaction as the needle is inserted. Sometimes electroacupuncture is used to stimulate the points with electrical activity. Rare side effects include a temporary worsening of the symptoms or sleeping for 48 hours after the initial treatment. Most patients will be tired the day of their treatment.
Please make sure your regular veterinarian is aware that you are pursuing alternative veterinary care in case there is any additional testing that is needed prior to your acupuncture appointment. Chinese Herbs do have a bitter taste so some animals, especially cats, are not very receptive to receiving herbs. Remember, it takes time for the body to heal itself. It will probably be at least a month before you notice the true benefits of TCM.
Traditional Chinese Medicine is a very safe and effective treatment for many disease states. Most patients learn to enjoy their acupuncture sessions. Remember to ask your veterinarian about acupuncture and Chinese herbology as treatment options.
Initial acupuncture consults are 60 minutes. All other acupuncture visits are around 30 minutes. One of the patient's owners needs to be present for the initial consult. After the initial treatment feel free to drop your pet off for the day or send a friend with an update to the appointment. You will need to give a 24 hour cancellation notice to avoid being charged for an appointment.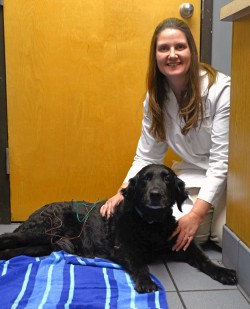 Dr. Williams was certified in 2001 by the International Veterinary Acupuncture Society (IVAS).  Additionally, in 2004, she completed an extensive course through IVAS in Veterinary Chinese Herbology.  She also completed a comprehensive course in homeopathy by Dr. Pitcairn in 2010. In 2013, she completed the food therapy course at the Chi Institute. She feels that these complementary modalities are important assets to her traditional veterinary medicine and can significantly benefit her patients.