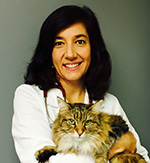 Lisa Marsico DVM
Cornell University College of Veterinary Medicine
Professional interests: feline medicine, youth education
Dr. Marsico joined the practice in 1992. She contributes veterinary articles to a neighborhood newspaper and is a frequent guest speaker at local schools. Dr. Marsico lives in Alexandria with her husband, Gene, and two cats – Abby and Ollie. In her free time she enjoys hiking, boating, skiing, bird watching, gardening and listening to live music.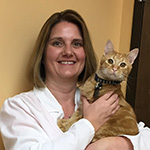 Anne Mixson Williams DVM, CVA
Virginia Maryland Regional College of Veterinary Medicine
Professional interests: acupuncture, Chinese herbal medicine, nutrition, homeopathy
Dr. Williams has been at the practice since 1997. She enjoys sea kayaking, reading, gardening, and cooking. She shares her home with her husband, Chris, and their cats – Sabina, Chewie and Hans.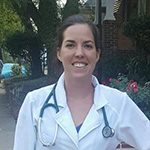 Margaret Bellows DVM
Virginia-Maryland Regional College of Veterinary Medicine
Professional interests: exotic animal medicine and surgery, behavior
Dr. Margaret Bellows joined the practice Fall, 2016. She is excited to share her passion for birds, small mammals, reptiles, dogs, and cats. Her hobbies include rock climbing, hiking and soccer. She lives in Alexandria with her two rescued dogs, one scruffy cat and an ancient Western Hognose snake.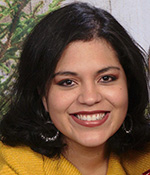 Elda
Elda joined Del Ray as a veterinary assistant in July 2012. Her hobbies include baking, and taking care of her 3 year old son. She has a 14 year old Yorkie named Chiki, who lives with his grandma because he doesn't like apartment life.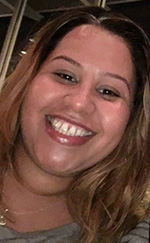 Erica
Erica has been a receptionist with us since September 2014. She lives in Arlington with her husband, son, and 3 dogs. She will be adding a baby girl in June! Erica enjoys shopping, hanging out with friends, and spending time with her family.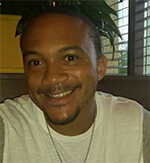 Keefe
Keefe has been a veterinary assistant with us since December 2014. He has 5 years of experience in the animal field. Keefe has a wife, a son, and a daughter on the way. He enjoys playing and coaching his son in football, and having fun with his family. He shares his home with three wonderful dogs – Tiger, Polo, and Princess.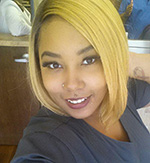 Tyricka
Tyricka has been working with us since June 2015 as a veterinary assistant. She has had dreams of becoming a veterinarian ever since childhood. Tyricka enjoys spending quality time with her two sons, one cat, and four dogs, and she has hopes of completing her continued studies in veterinary medicine in the near future.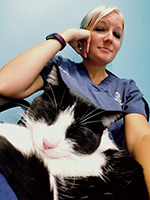 Jen
Jen joined the practice as a surgical assistant in September 2007. She graduated from NVCC's Veterinary Technician program and obtained her license as an LVT in 2014. Her professional interests include veterinary dentistry and practice management. Outside of work, she enjoys live music, beach vacations, and is a die-hard Caps and Ravens fan! She lives in Alexandria with her three cats and her Border Collie, Sadie.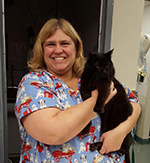 Brenda
Brenda is our other surgical assistant who has been here since October 2004. She lives in Burke with her husband (who is allergic to animals), daughter and pet fish, Bubbles. Her daughter has many activities that keep both of them very busy. In addition, she works part time as a pet sitter, loves volleyball, enjoys gardening and crafts.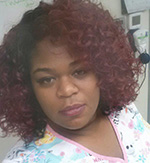 Berkys
Berkys joined Del Ray Animal Hospital as a veterinary assistant in 2015. She is a very goofy, lovable person that loves to take care of animals. If she could, she would take them all home. until then, she will continue to spoil each wiggle and wag one at a time.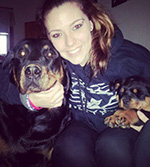 Audrey
Audrey joined the team in May 2017. She is currently in school to receive her veterinary technician license. She lives at home with four dogs (2 Pomeranians, a Bull Terrier and a Great Pyrenees) and a cat. She is also expecting her first child, a little girl, at the end of November!